Sharon Kovacs - Interview
By Efthimis Paras
Δημοσιεύτηκε 5/10/2018 01:07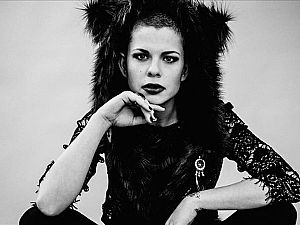 Last month you released your second album "Cheap Smell" how long did the recording process last and tell us how you feel about it now it's out?
I am so happy it's finally out! It took me 3 years but I am very thrilled with the end result
Who are the musicians performing with you?
I have a new band so it's all new musicians! On guitar it's Estelle Stijkel, on bass: Korné, keys: David Hoogerheide, Drums: Jelle Backing vocals: Julia Evers, Hannah Trumpet: Jan Dekker
Now you are on a tour, which countries you will visit?
A lot :)
Russia, Oekraïne, Germany, Greece, Holland, Lithuania, France, Austria.. and many more to come
Cheap Smell is a full album with 15 tracks and recent albums have been limited to 10 songs. How did you decide to include so many beautiful tracks?
It took me 3 years and I wanted to give my fans something extra to listen too.. also all the songs all together for me tell the story that I wanted to tell
Shades of Black was one of the top albums of 2015. Do you believe that Cheap Smell is a continuation of this work?
Haha that's a difficult question for me it's not all about the succes the record has but how happy you are with it and what you got out of it for yourself. For me the new album tells much more a complete story about who I am, and I am very happy with it!
Your influences have been quoted as Etta James, Billie Holiday, Ella Fitzgerald, Janis Joplin and Nina Simone. Did you grow up listening to these artists?
No not at all I started listening to these artist when I was around 16, 17
Before that I always listened to the artist my mamma liked (Tina turner, Whitney Houston) mtv, and radio top 100 songs :)
You were the fourth winner of a 2016 European Border Breakers Award. Ηow much do you think this prize has helped you reach your audience?
It helped me a lot!
After that I went to a lot of different new countries
Some people see the similarities between you and Amy Winehouse. What do you think?
I can understand people say so, she was also inspired by a lot of the same singers as I do.. but our music styles are still very different :) but still I really liked her aswel as a singer and it's a compliment over all people say so…
What is your next goal?
A new album, see more new places and meet more new inspiring people
What would you like to share with your fans?
Be yourself :)
Σχολιάστε το άρθρο